The evolution of the SaaS model has transformed how product companies are building new features into their apps. Balancing development with user experience is a critical challenge that product managers are facing in the current environment. A profound shift in customer expectations is driving SaaS companies to adapt quickly. Their ability to solve the emerging problems has become the key brand differentiator.
Simultaneously, SaaS leaders realize that no single product can provide all the features that a single customer might desire. There aren't enough resources to spare. But this is where the opportunity to grow is!
In the era of hyperspecialization, businesses clearly want to stop reinventing the wheel. According to a study by SuperOffice, businesses moving to the SaaS model do so primarily because it lets them focus on their forte while utilizing the ready-to-use (plug-n-play) ecosystems to handle the rest.
The result: Improved business agility. All thanks to the immense benefits of customization.
The Coming of Age of SaaS Application Ecosystems
Over the years, workflow optimization has become the buzzword in the business world, with companies looking to aggressively drive operational efficiencies and cost savings. Automating business processes is the solution to keep non-core expenses from draining the company budget. Processes that once functioned in relative isolation from one another – marketing, sales, accounting, and customer support – are now being fused for 360-degree visibility, and of course, better collaboration.
To make critical business data available to users, businesses are building data pipelines that seamlessly link multiple apps. This explains the massive growth in the number of integrations over the years. According to Chiefmartec, the median for app integrations used by the 1000 fastest growing SaaS companies in 2019 was 15. This number has been on the rise ever since.
App ecosystems will be more critical as businesses adopt emerging technologies like Artificial Intelligence and Machine Learning. In effect, most companies will function as customer data aggregators in their own right in the future.
For example, popular apps like Slack, Salesforce, Quickbooks, and Box are now being used by more small businesses than ever before, including those with teams of less than 50. However, with so many apps being available, integrating data from various sources or "letting two apps talk to each other" is becoming a significant problem for small businesses.
For SaaS developers, the goalpost has changed. Buyers now expect integrations to be offered as standard and do not want to incur extra costs on developing their custom integrations. For many, it is not feasible to scale in-house development teams due to lack of resources and integration expertise. With a decline in IT budgets worldwide, doing more with less has become somewhat of a mantra. Development time is another factor. Our research shows that the average timeframe for building a single integration can take 1 -3 months and to build a flexible integration solution in house can take 2+ years.
In any case, the market for SaaS apps is saturated, and unit economics have only changed for the worse. Competition has been growing by leaps and bounds, making product differentiation harder even for core features like single sign-on and analytics. SaaS companies are now offering technology partnership-driven app ecosystems that enable economies of scale and improve customer acquisition and retention.
Why are Application Ecosystems the Future of SaaS?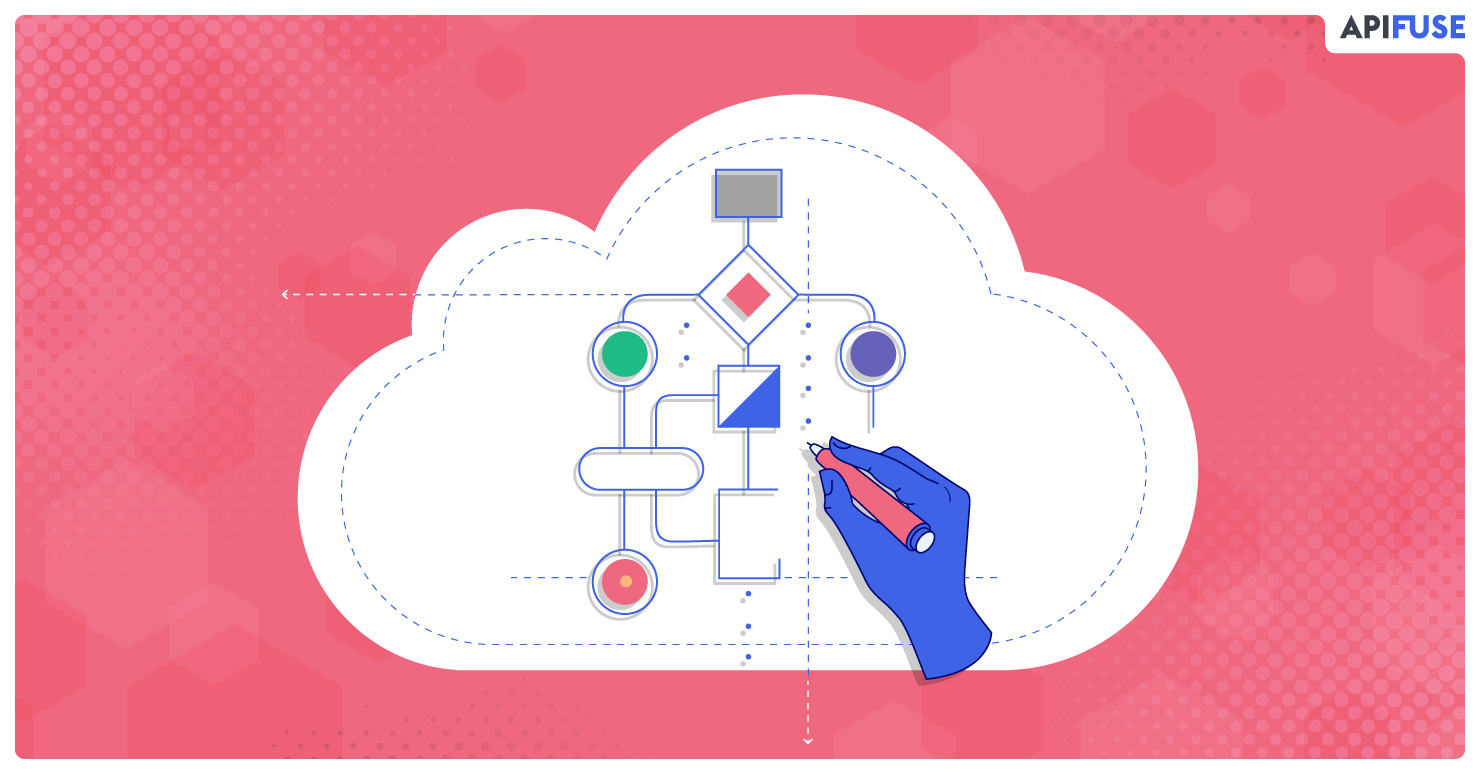 The critical question that SaaS businesses are asking is: how do we make our core product and third-party apps work together more efficiently? After all, each API is different from the other functionally. With the average number of enterprise apps growing exponentially, integration is becoming a challenge. This is because an effective application ecosystem is about enabling your customers to optimize their end-to-end business workflows.
However, the high cost of integrating third-party apps in-house can hardly be ignored.  Customers are demanding deeper integrations that enable them to adapt their SaaS platforms to their own unique needs. App ecosystems are enabling them to cater to this need.
For example, an e-commerce store may want to provide a highly personalized experience to its customers by giving them the ability to opt for standard delivery or drop shipment. When an order is placed, inventory may need to be updated and an invoice generated automatically to be sent to the customer. The store may also want to send a confirmation email to the customer and recommendations on related products they may be interested in.
All this can be achieved through an integrated app ecosystem. This removes the need to manage workflows manually such as updating customer records or managing customer engagement through separate apps.
What SaaS Businesses Need to Focus On…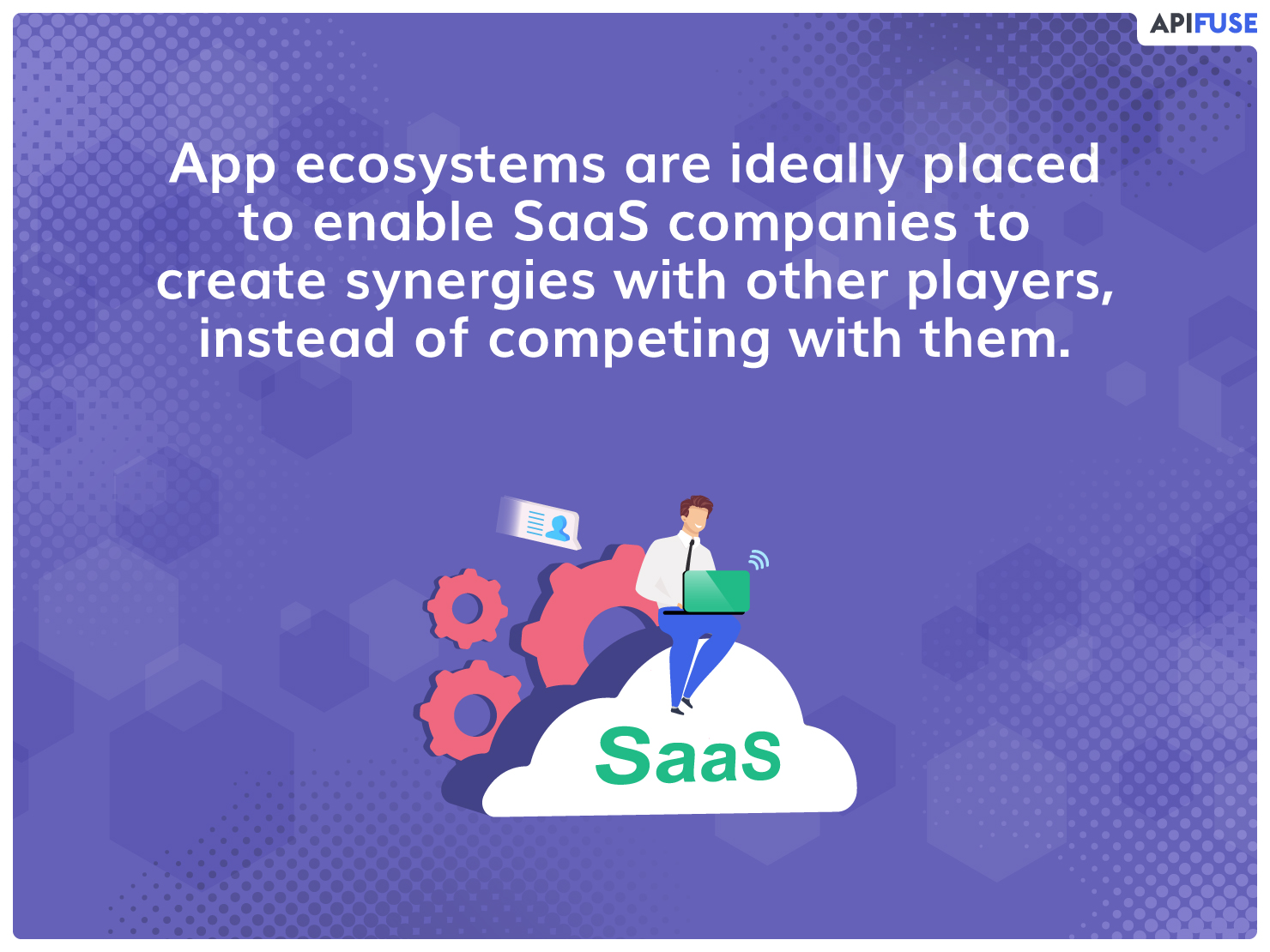 With the larger Cloud providers like Amazon Web Services and Google Cloud Platform preparing to expand into SaaS territory, product companies need to play to their own strengths. In other words, they need to capitalize on their intimate understanding of their business niche. SaaS companies are much more familiar with the dynamics of the small business market than their billion-dollar competitors. This gives them a level of defensibility that can help resist competition from larger brands. However, they must guard against the urge to create products that may be overkill for small businesses that have much more modest needs.
The truth is that small businesses typically only need a few of the features that a SaaS product like Salesforce or Slack has to offer. Too many features can make it hard for businesses to track their monthly usage and justify their subscription cost. The product companies can address this by including a handy dashboard feature showing real-time data usage for each customer.
This opportunity to tap smaller but high potential verticals can open up new horizons. App ecosystems are ideally placed to enable SaaS companies to create synergies with other players, instead of competing with them.
For example, Hubspot, one of the fastest-growing SaaS companies anywhere in the world, currently offers customers more than 500 native integrations. Since 2006, the company's packaging strategy has evolved from a single $250 a month product to 3 foundational plans, Starter, Professional, and Enterprise, each of which has three separate modules- Sales, Marketing, and Service.
If a customer needs to use them all, Hubspot offers its Growth Suite that comes with a range of out-of-the-box and custom bundles, depending on unique customer needs. This gives their customers the ability to pick and choose their own apps, for as little as $50 a month.
By leveraging embedded integration platforms, SaaS companies can help their customers easily integrate the tools they use to power their operations.
Building a balanced app ecosystem
To create an optimized ecosystem, the end user's intent should be kept front and center throughout the design, build, and deploy phases. Simplifying workflows by connecting data across multiple apps should be the primary objective. A great question product managers should ask themselves is: how many tasks can a user perform without having to switch between screens or login to separate applications to perform a job (ex: run a campaign)? 
The first step is mapping the value chain of the core "job to be done". SaaS companies need to be clear about the core problem they want to continue to solve for customers. This will help them decide what an ideal third-party partner would look like. Once a product manager has decided on what complementary features are needed to extend an end-to-end experience to customers, the research process should be initiated. If you are in a competitive niche, all you need to do is research the partner programs offered by established ecosystem providers which will help identify the ideal partners that a SaaS company needs.
The type of integration should also be considered according to the use-cases. Here are a few key things product companies should keep in mind when conceptualizing and building an app ecosystem:
Type of Integration:
Much depends on how the app integration is to be performed, whether it is via open APIs, integration platforms, or native integrations. It is important to consider whether the integration is to be performed locally between individual apps or at the process level. Multiple apps may need to be connected across the value chain.
Now let's take a look at how the two integration types differ and the key factors companies should keep in mind:
Data Integrations: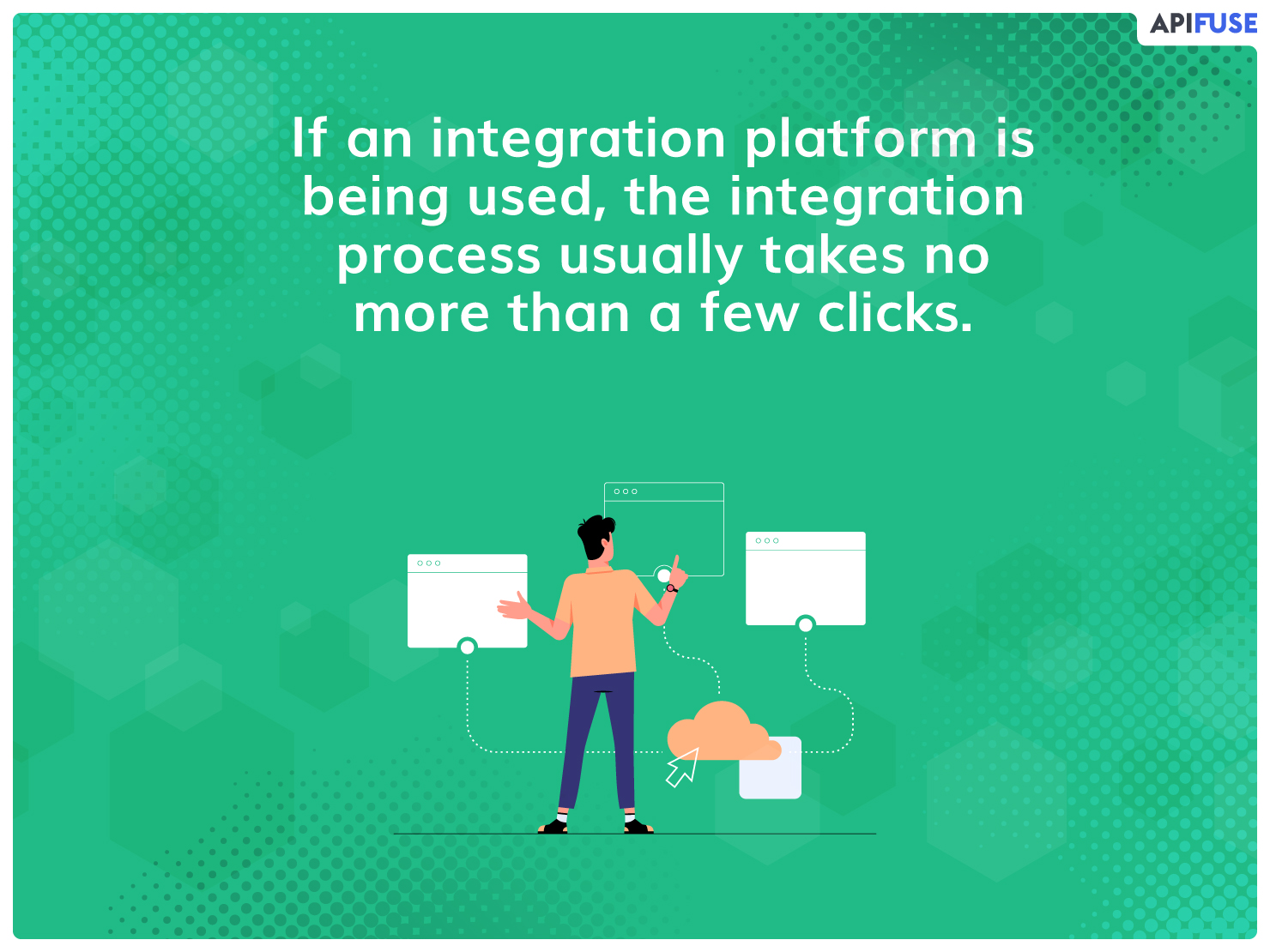 In case, a business wants to create a deep integration with a SaaS product via open API, proper end-to-end documentation outlining the core structure and functional aspects are critical. The product company must provide specific use-case information, including detailed demos,  log-in/authentication protocols, user guides, sample codes, and reference frameworks.
This will go a long way in streamlining the on-boarding experience for customers, thereby minimizing data bottlenecks. Since scalability and responsiveness are likely to be key considerations, the SaaS company must also include guidelines on data governance.
If an integration platform is being used, the integration process usually takes no more than a few clicks. What's more, businesses can simply choose from among an extensive list of existing integrations and add them to their workflows, without the need for IT support.
On the other hand, native integration is likely to take the longest amount of time to execute as professional expertise will invariably be required to perform the integration. Building one to one integrations can increase the odds of data duplication and master data management issues, compared to a plug and play integration platform like APIFuse, for example.
Workflow Integrations: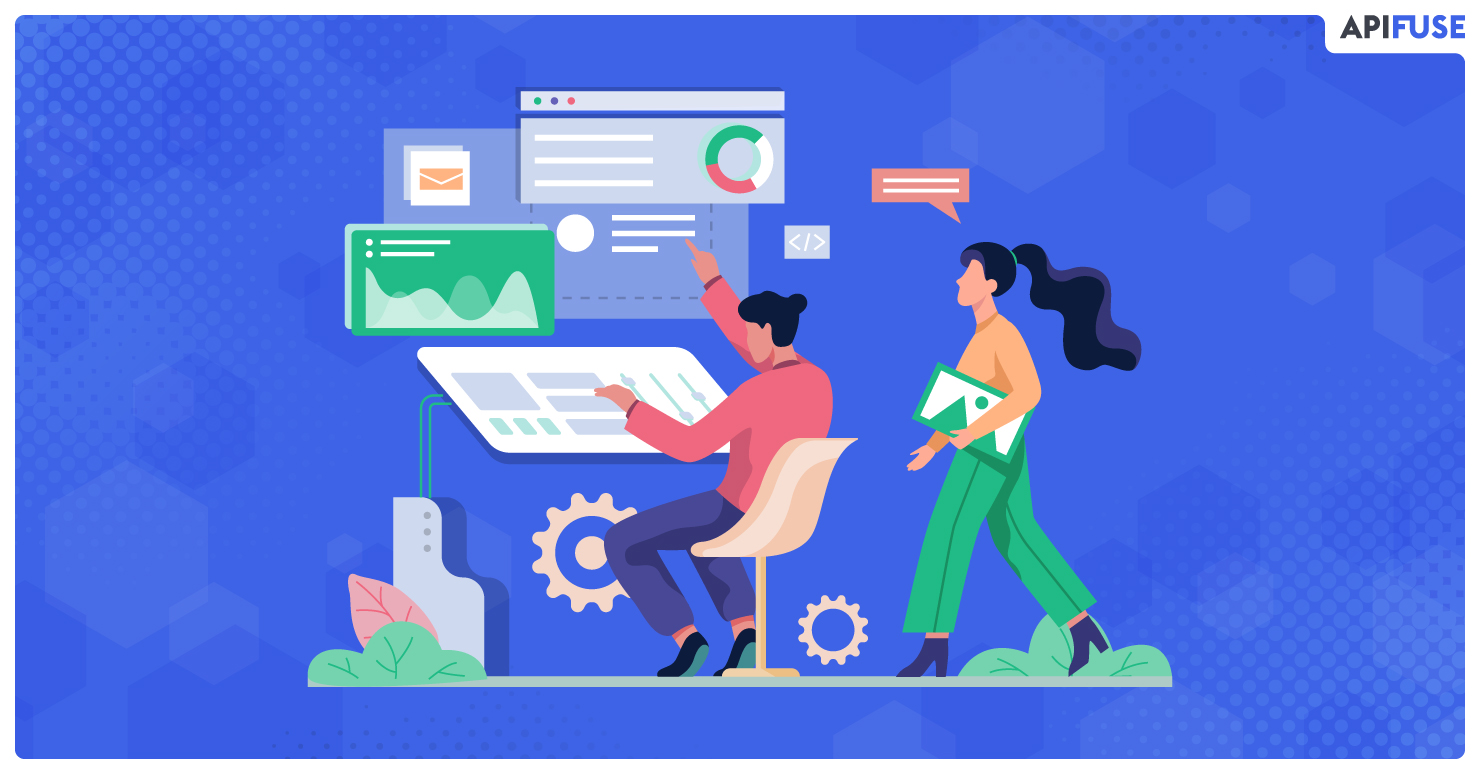 Seamless workflow integrations are critical to ensure the smooth flow of data across multiple apps to ultimately create revenue. However, not all apps work well with each other. Configuring an app to trigger an action in another one can be tricky without professional help which has its own costs. There are other things that need attention too. For example, deduplication and data integrity.
Deep integrations on open APIs also need ongoing tweaks as workflows evolve to meet new business demands. On the whole, the overall business strategy must be mapped into the integrations so that data conflicts can be avoided.
Conclusion
Application ecosystems can help businesses and SaaS companies transition from product-centric to experience-centric growth. A seamless workflow built on an integrated network of apps will further enable them to utilize customer data to further evolve their offerings, allowing them to gain a competitive edge in the market.
The biggest advantage of SaaS companies is that the ecosystem model enables them to serve as facilitators of innovation by allowing third-party software providers to plug into their existing network to multiply value for all stakeholders: themselves, the ecosystem owners, and the end-customers. In an era of intense competition, a low cost, plug-and-play ecosystem can thus provide significantly improved ROI which will lead to further market expansion.
Whether you are a brand new business or an established player, APIFuse offers a range of plans to meet your needs. Our Standard and Platform plans offer SaaS companies on-demand integration and end-user insights, which leads to faster revenue growth and diversification. With our premium 'White Glove' plan, you get professionally managed integration support with complete customization.
To discover how APIFuse can help you control operating costs and grow market share, request a demo today.